Ultrasonic cleaning systems
Solution according to customer's requirements

Complex realization from the draft to manufacturing

Individual approach to the task

Modern construction procedures



In more demanding manufacturing processes, especially in term of cleaning capacity, it is more convenient to use complete cleaning systems that can contain as necessary:
tank to remove largest particles of dirt (according to requirements it can be ultrasonic or whirling)
tank to intensively remove the impurities with ultrasonic energy
tank to wash the surface of cleaned objects with water (can also be ultrasonic)
tank to preserve the surface of cleaned objects (from rusting, etc.)
hot air drying tank
 
In general, tanks designed for cleaning in large cleaning systems are equipped with:
overflow container (to prevent the cleaning liquid leak out of cleaner once an object is inserted)
mechanism to move the basket inside the cleaning liquid
heating of cleaning liquid with thermostat adjustment
water level sensor
pump
valves
filter to catch mechanical dirt particles
belt gummer to remove mainly oil impurities from the cleaning liquid
Aforementioned tanks can be mounted in automatic feeding system, which will take the basket at the beginning and moves it through individual tanks gradually. The last step will be taking of clean and dry from the last tank and putting it on a specific place.

Some of our custom cleaning systems: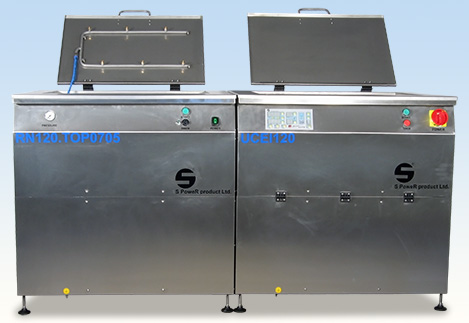 Cleaning line with ultrasonic and rinsing tanks